ABOUT OUR PROGRAM: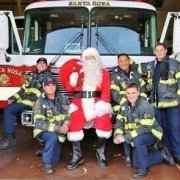 The Santa Rosa Fire Fighters Local 1401 has conducted a toy collection to benefit children in need within the Santa Rosa area for over twenty years. This unique program, operated through the generous donations of our community, businesses and local agencies, affords an opportunity to reach out and provide those less fortunate children in the Santa Rosa area with at least one new toy at the Holiday Season.
The 2016 Toys for Kids Program distributed toys to elementary school age children throughout the greater Santa Rosa Area.  The children benefitting from the Toys for Kids program were reached through the Bellevue, Bennett Valley, Mark West, Piner-Olivet, Rincon Valley, Roseland, Santa Rosa, and Wright Elementary School Districts.  We also assisted the Volunteer Center of Sonoma County by providing toys to fulfill wishes through their Giving Tree Program, the Boys & Girls Club of Santa Rosa, Santa Rosa Rec & Parks, YWCA Sonoma County, and many more organizations.
WAYS TO DONATE:
FIRE STATIONS – Visit any Santa Rosa or Rincon Valley Fire Station from Thanksgiving to Christmas eve. Look for the collection barrels in front of the stations during the holiday season.
SANTA ROSA PLAZA SHOPPING CENTER – Firefighters and their families will be at Santa Rosa Plaza collecting cash donations and new un-wrapped toys during the month of December.
TOYS FOR KIDS PANCAKE BREAKFAST – The 2018 Breakfast will be held in December at the Santa Rosa Veterans Memorial Building, on the corner of Maple/Brookwood Ave. across from the Fairgrounds. Please check back later for the exact date.
Thank you to our Toys for Kids Donor's and the people of Santa Rosa and Sonoma County, for your generous donations that continue to make this program a success!
CONTACT INFORMATION:
Feel free to contact us by phone or email, or by filling out the form below.
Toys for Kids Phone #: (707) 583-9216
Toys for Kids Email: toys4kids1401@gmail.com