Due to the COVID-19 Pandemic, our Fire Stations are closed to the public, and we are unable to accept physical donations.  To appropriately observe and comply with Social Distancing Guidelines, we will be collecting monetary donations, to be used for the purchase of toys, gifts, and food for distribution to families in need.
We are participating in a collaborative distribution along with Secret Santa Now – Center for Volunteer & Nonprofit Leadership, Redwood Empire Food Bank, Toys for Tots, & The Salvation Army.  This joint effort is being made to responsibly operate during these unprecedented times, while still achieving the effort of ensuring our communities and families enjoy a happy holiday!
Please consider donating to Toys for Kids:
By Mail @
Toys for Kids – Local 1401 Firefighters
PO Box 1251, Santa Rosa, CA 95402
~or~
Via PayPal
Toys for Kids – Santa Rosa Fire Fighters L-1401
To register for assistance, apply at:
https://secretsantanow.org/SantaLetter
During these challenging times, your local charities (Toys for Kids, Secret Santa Now, Redwood Empire Food Bank, Toys for Tots, & The Salvation Army) have decided to join together in order to provide for those in need during the holiday season!  Together we will collect funds, toys and food to be handed out to registered recipients on December 19th.
Para receibir, aplicar en:
https://secretsantanow.org/SantaLetter
Durante estos tiempos dificiles, las organizacions beneficas (Toys for Kids, Secret Santa Now, Redwood Empire Food Bank, Toys for Tots, & The Salvation Army) locales han decidido unirse juntos para ayudar a los necesitados durante la temporada navidena.  Recolectaremos fondos, juguetes y comida para entregar a familias registradas el 19 de Diciembre.
ABOUT OUR PROGRAM: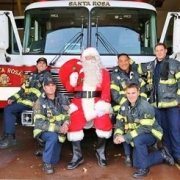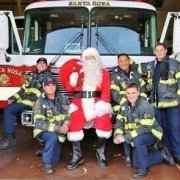 The Santa Rosa Fire Fighters Local 1401 has conducted a toy collection to benefit children in need within the Santa Rosa area for over twenty years. This unique program, operated through the generous donations of our community, businesses and local agencies, affords an opportunity to reach out and provide those less fortunate children in the Santa Rosa area with at least one new toy at the Holiday Season.
The 2018 Toys for Kids Program distributed toys to elementary school age children throughout the greater Santa Rosa Area.  The children benefitting from the Toys for Kids program were reached through the Bellevue, Bennett Valley, Mark West, Piner-Olivet, Rincon Valley, Roseland, Santa Rosa, and Wright Elementary School Districts.  We also assisted the Volunteer Center of Sonoma County by providing toys to fulfill wishes through their Giving Tree Program, the Boys & Girls Club of Santa Rosa, Santa Rosa Rec & Parks, YWCA Sonoma County, and many more organizations.
Thank you to our Toys for Kids Donor's and the people of Santa Rosa and Sonoma County, for your generous donations that continue to make this program a success!
CONTACT INFORMATION:
Feel free to contact us by phone or email, or by filling out the form below.
Toys for Kids Phone #: (707) 583-9216
Toys for Kids Email: toys4kids1401@gmail.com