OVER ONE HUNDRED YEARS OF SERVICE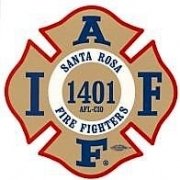 Welcome to the home of Santa Rosa Fire Fighters L1401. Local 1401 represents the fire fighters, fire engineers, fire captains and fire prevention personnel of the Santa Rosa Fire Department, the Rincon Valley Fire Protection District, the Rancho Adobe Fire Protection District and the Bennett Valley Fire Protection District. Our 180+ members respond to all manner of emergency and non-emergency calls for service throughout the community.
In addition to responding to calls for service, our members volunteer their time to support a variety of charitable causes (our own Toys For Kids Program, the Alisa Ann Rusch Burn Foundation, MDA and Special Olympics to name a few), actively engage in matters of civic concern to ensure a high level of public safety in our communities, and support the families of fallen fire fighters, police officers, EMS workers and military personnel with our Honor Guard.
It is a distinct honor to serve our community in times of greatest need and we are thankful for your faith, trust and support.
Shift Schedule
December 2023
S
M
T
W
T
F
S
1
2
3
4
5
6
7
8
9
10
11
12
13
14
15
16
17
18
19
20
21
22
23
24
25
26
27
28
29
30
31